Colección Primavera 2011
Too Faced: Look of Love–Colección Primavera 2011
Como su propio nombre indica, la nueva colección de Too Faced para la próxima temporada no puede ser más primaveral, más romántica y más rosa, ¡ay cuánto azúcar!
Aunque la paleta de sombras tiene de todos los tonos, en esta colección predominan sobretodo los tonos rosados, muy propios de la temporada primaveral y una nueva línea de productos iluminadores.
Paleta sombras
Romantic Eye Classic Beauty Shadow Collection– Contiene un total de 9 sombras:
3x 0.06 oz (sombras izquierda):
Soul Mates (melocotón con brillo),
Kiss The Bride (rosa palo mate),
Bouquet Toss (marfil mate)
6x 0.03 oz (sombras derecha – de izquierda a derecha y arriba a abajo):
I Do (topo mate),
Un-Veil (negro mate),
Cut The Cake (malva con brillo),
First Dance (morado oscuro mate),
Honeymoon (dorado cobrizo shimmer),
Ever After (marrón cobrizo shimmer)
Incluye tarjetas con propuestas de looks.
Prebase de sombras
Shadow Insurance Glitter Glue Glitter Bonding Eye Shadow Primer

– Prebase (primer) perfecta para pigmentos y sombras con purpurina, ya que gracias a su fórmula cremosa incolora adhiere mejor las partículas de la sombra y previene que se desprendan. Sin color.

Shadow Insurance Candlelight Softly Illuminating Anti-Crease Eye Shadow Primer en Golden Sheen – Prebase que aporta un tono metalizado a las sombras o puede llevarse sola para aportar luz. Su fórmula enriquecida con vitaminas y sin siliconas alarga la duración de tus sombras y aporta luminosidad.
Pigmentos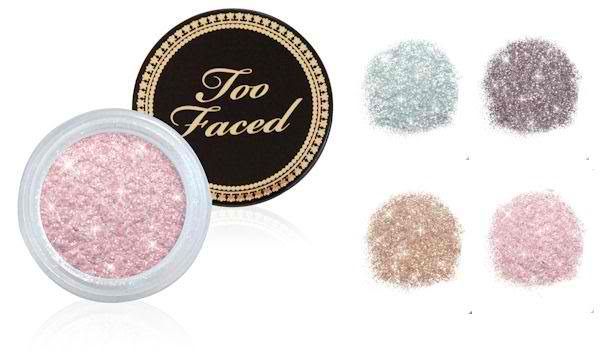 Glamour Dust – Pigmentos en 4 tonos:
Blue Angel (Azul claro con purpurina irisada)
Glampire (marrón ciruela con purpurina azulada)
Nude Beam (dorado con purpurina plateada)
Pink Fire (rosa palo con purpurina rosa)
Polvos bronceadores
Peach Leopard Brightening & Perfecting Bronzer – Evolución de su famoso Leopard bronzer que aporta un tono cálido y "tropical". La combinación de melocotón, doarado y chocolate neutraliza rojeces e imperfecciones aportando un ligero tono bronceado a pieles claras y medias y un tono "buen aspecto" a pieles más morenas.
Base
Amazing Face Oil Free Close-Up Coverage Foundation – Base de maquillaje líquida oil free. Su fórmula con tecnología de reflejo de la luz minimiza los poros y cubre imperfecciones unificando el rostro y aportándole luz con un acabado "air brush". En los tonos (de más claro a más oscuro):
Vanilla Crème
Warm Vanilla
Perfect Nude
Warm Nude
Honey Beige
Warm Honey
Cocoa Beige
Warm Cocoa
Kit regalo


Look of love set – Neceser edición especial de la colección que contiene:
Shadow insurance
Paleta de sombras y colorete
Máscara de pestañas Lash Injection
Glamour Gloss
Primed and poreless
Kabuki
Esta colección ya está a la venta en tiendas.
La paleta no me dice nada, pero la prebase de acabado metalizado me parece muy interesante. El kit del neceser también está muy bueno.
Dior: Gris Montaigne–Colección Primavera 2011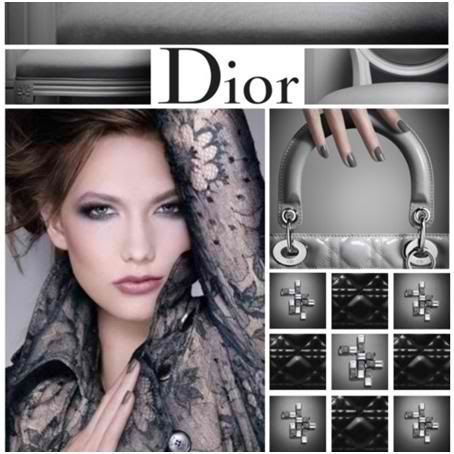 Lo nuevo de Dior viene básicamente en tonos rosas y grises, con algún marrón y azul que se les ha colado, pero que parece más colección de otoño que de primavera.
Paletas de sombra

s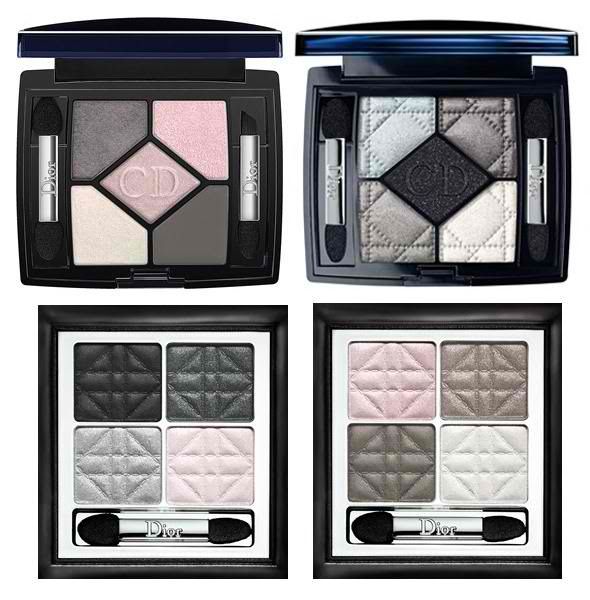 Dior Dior 5-Colour Designer Eye Palette in Soft Pink Design #018
Dior 5-Colour Eyeshadow in Gris-Gris #034
Dior Cannage Palette # in Whisper Grey andDawn Grey
Barras de labios
Rouge Dior Lip Color
Spring Pink # 540
Chic Pink # 658
Lip gloss
Addict Ultra Gloss
Trianon Silver # 707
Pink Veil # 654
Lip Serum

Serum de Rouge Lip Treatment
Pink Coral Serum # 240
Pinky Mauve Serum # 460
Otros
Mascara Diorshow 360 – Máscara giratoria, el cepillo da vueltas (pero no vibra). # 090
Dior Eyeliner Pencil #077 Smoky Grey
Dior One-Colour Eyeshadow, #53 Graphic Grey
Colour moist powder SPF 8 en # 001, 002, 003
Dior Vernis Nail Enamel #108 y #707 Gris Montaigne
Lo siento pero esta vez no tengo información de los precios. Definitivamente tengo que comprarme algo de Dior....
Chanel: Les Perles–Colección Primavera 2011
La nueva colección de Chanel está inspirada en las perlas para dar luminosidad al maquillaje de esta primavera.
Una colección que tiene un poco de todo en cuanto a tonos, y donde predomina el rosa y el coral para los labios.
Sombras de ojos
Para esta colección se han creado dos paletas de sombras edición limitada:
Ombres Perlées Eyeshadow Palette : Contiene 5 sombras de reflejo irisado y textura cremosa. Las sombras son: Blanc perle, Rose porcelaine, Violine clair, Gris vert y Gris noir scintillant.
Les 4 Ombres – Regards Perlé: Un quad con tonos rosado, melocotón, blanco y negro. Podéis ver el look de la foto de abajo del desfile de primavera de la marca donde utilizaron esta paleta.
Polvos y colorete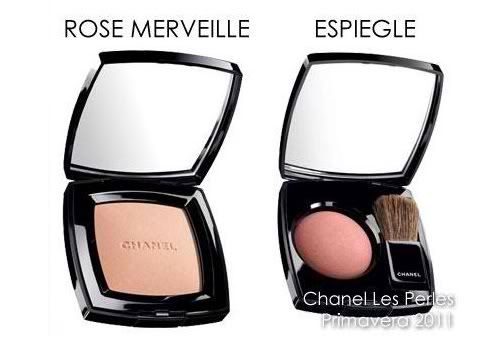 Para la cara, polvos compactos y colorete:
Poudre Universelle Compacte en Rose Merveille, un rosa pálido con purpurina muy sutil para reflejar la luz.
Joues Contraste en Espiegle, un rosa melocotón.
Barras de labios
Lip gloss y lápices
Lèvres Scintillantes en dos nuevos tonos: Nakkar y Argonite.
Lacas de uñas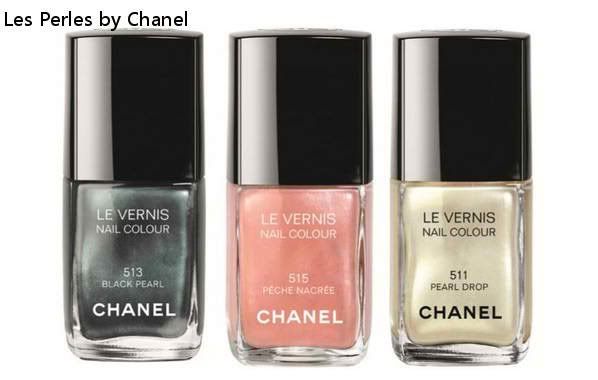 Le Vernis Nail Color (21 eur) en tres tonos: Black Pearl, Pêche Nacrée y Pearl Drop.
Esta colección ya está a la venta.
YSL: Boheme Libertine–Colección Primavera 2011
Bohème Libertine, la marca Yves Saint Laurent

lanza una colección con mucho colorido sólo apta para las más atrevidas aunque los labiales son aptos para todos los públicos
Sombras de ojos
Ombres 5 Lumieres
en número
10 Bohemian Chic.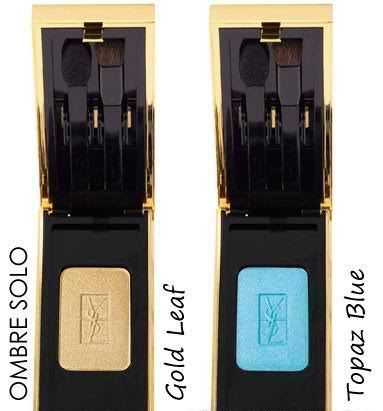 Ombre solo en Gold Leaf y Topaz Blue.
Máscara de pestañas

Mascara Singulier en Deep Plum, un berenjena oscuro.
Labios
Rouge Pur Couture – Disponible en 8 tonos:
#23 Corail Poetique
#24 Blond Ingenu
#25 Raphael Taupe
#26 Rose Libertin
#27 Innocent Fuchsia
#28 Rose Boheme
#29 Venus Rose
#30 Corail Fauvists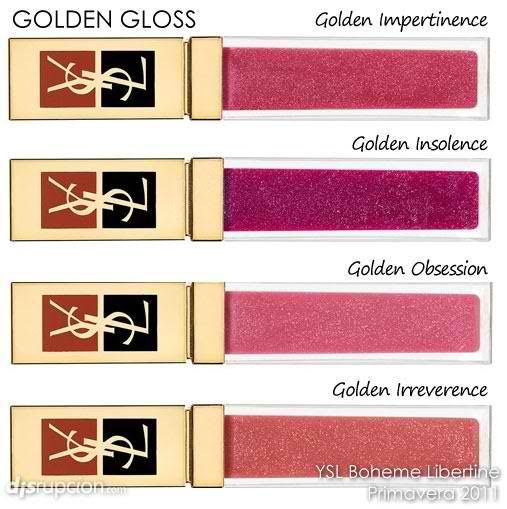 Golden Gloss (30 eur) – Lip Gloss con reflejos dorados en 4 tonos:
#40: golden impertinence
#41: golden insolence
#42: golden obsession
#43: golden irreverence
Iluminador
Celebration Palette – La estrella de esta colección. Un iluminador que aporta luminosidad a la piel. Difumina la luz para dar un aspecto satinado y brillo suave a la piel. En dos tonos: Pink con un acabado rosado y Peach en un tono más coral.
Coloretes
Creme de Blush – Coloretes en crema en 5 tonos
#1: velvety peach
#2: powdery rose
#3: silky praline
#5: temptation fuchsia
#6: passion red
Esmaltes de uñas
La Laque – Esmalte de uñas en dos tonos:
Esta colección ya está en tiendas .
Givenchy: Naivement Couture–Colección Primavera Verano 2011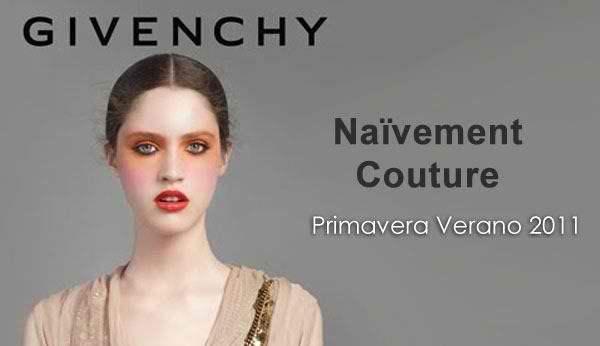 La nueva colección de Givenchy para esta nueva temporada apuesta por los tonos corales y naranjas
Sombras de ojos
Prisme Yeux Quatour en Candide Garden – Tonos tierra, naranjas y marrones.
Colorete
Blush Gelee – Colorete en gel con un aplicador de esponjita.
Labiales
Rouge Interdit en Candide Tangerine – Color mandarina
Rouge Interdit Shine en Candide Nude – Un coral brillante
Otros
Gloss Interdit en Candide Tangerine – Naranja
Vernis Please! en Candide Peach – Melocotón con purpurina plateada
Magic Khol en Cofee – Color marrón
Esta colección ya está a la venta.
Dolce Gabbana: Secret Garden Collection–Primavera 2011
Ya está aquí la nueva colección de maquillaje de Dolce Gabbana , y vemos que viene en tono muy primaveral
Estamos viendo dos estilos muy distintos en las nuevas colecciones para esta temporada, unos se decantan por tonos tierras y marrones con algún rosa de vez en cuando y otros apuestan claramente por colores flúor. Entre medias, nos encontramos Secret Garden, una mezcla de tonos grises, rosas y como sorpresa una paleta de sombras en tonos pastel. Tonos muy naturales y discretos para un maquillaje nada recargado.
Sombras de ojos
Smooth Eye Colour Quad (izquierda) — Eden .
Smooth Eye Colour Duo (derecha) — Romance.
Barras de labios
Shine Lipstick en los tonos: Romance y Love
Lip gloss
Ultra Shine Lip Gloss en tonos: Secret y Bon Bon
Eyeliner
Crayon Intense en White y Lilac
Iluminador
The Illuminator en el tono Eva
Esmalte de Uñas
Nail Lacquer en el tono Platinum.
Esta colección está a la venta desde Febrero.
Lancome: Ultra Lavande–Colección Primavera 2011
Lancome lo apuesta todo por un color esta próxima temporada, el lavanda.
Sombra de ojos
Ombre Absolue Minérale Eye Shadow Palette – A70 Ultra Lavande warm Harmony
Ombre Magnetique en 3 tonos: Disco Gold, Disco Silver y Ultra Lavande
Colorete
Butterflies Fever Blush en 01 Glowy Ballerine – en tonos rosados y lilas, estampada con flores y mariposas. ¡Preciosa!
Labios
Le French Touch Absolu en 3 tonos 308 Lily Rose, 310 Daisy Rose y 312 Berry Rose.
Ballerine Color Fever Gloss Natural Origin en 3 colores: Beige Ballerine, Lavender Ballerine y Ballerine Ballerine
Lápiz de ojos
Le crayon khol eyeliner en 3 tonos: White, Pink Ballerina, Ultra lavande
Esmalte de uñas
Le vernis disponible en dos tonos: Disco Silver y Ultra Lavande
Esta colección ya está a la venta en tiendas.
E
spero que les guste .
No olviden pasar x mi canal en Youtube si tienen ganas.
Besossss :)
S
o
l
c
i
t
o
M
a
k
e
U
p