Colección Verano 2011: Givenchy & Too Faced .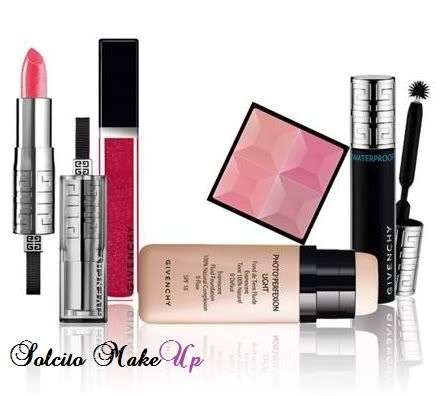 Hola corazones, hoy les queria compartir las novedades de las colecciones de tres marcas, como no son tantas las cosas de cada coleccion. Asique aca se las dejo...
La coleccion que Givenchy nos trae para este verano es de colores muy llamativos y vivos.

El director creativo de

Givenchy

,

Nicolas Degennes

ha viajado alrededor del mundo y ha descubierto la variedad. Inspirado por esa mezcla ha creado esta colección donde los colores se mezclan con el día y la noche, y el

neón

destaca esta temporada.


Sombras de ojos
Le Prismissime Yeux – Paleta con las sombras:
Turquoise Blues
Anise Green
Golden Yellow
Coral Orange
Mauvish Pink
Frappe Coffee
Sparkling White
Iluminador
Mister radiant – Una verdadera revolución en cuanto a productos iluminadores. Este gel contiene micro partículas con pigmentos marrones y amarillos y perlas iridiscentes para aportar luminosidad y frescura a tu piel.
Lip Gloss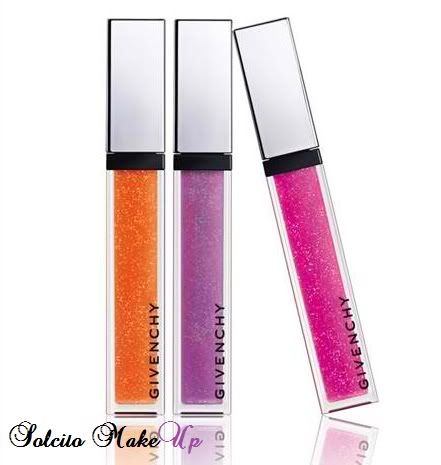 Gelee d'Interdit Balm Smoothing Gloss Crystal Shineb

– 13 nuevos colores
Máscara de pestañas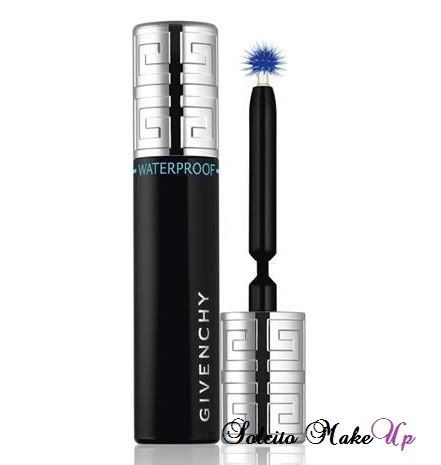 Phenomen'Eyes Waterproof – en el tono Acid Blue.
Esmaltes de uñas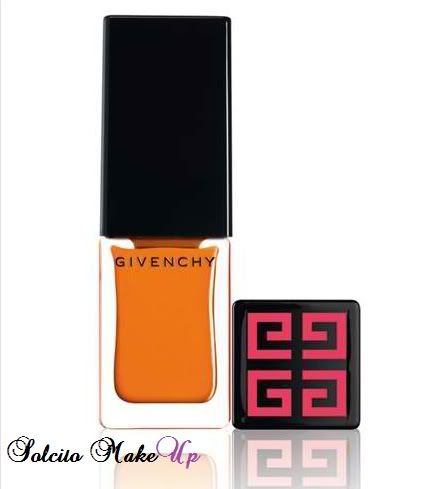 Vernis Please! –
en el tono Acid Orange.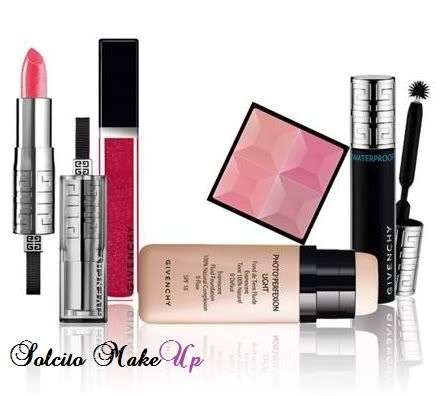 ----------------------------------------------------------------------------------------------
Too Faced: The Bronzed have more Fun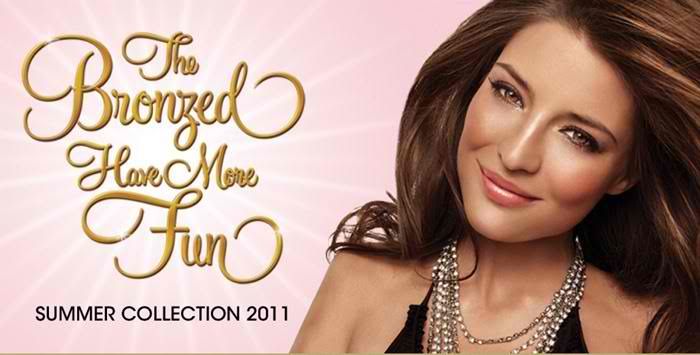 Esta marcas nos trae una coleccion con tonos super bronceados, o como dicen por ahy, "besadas por el sol", una coleccion que a mi en lo particular me parece muy bonita...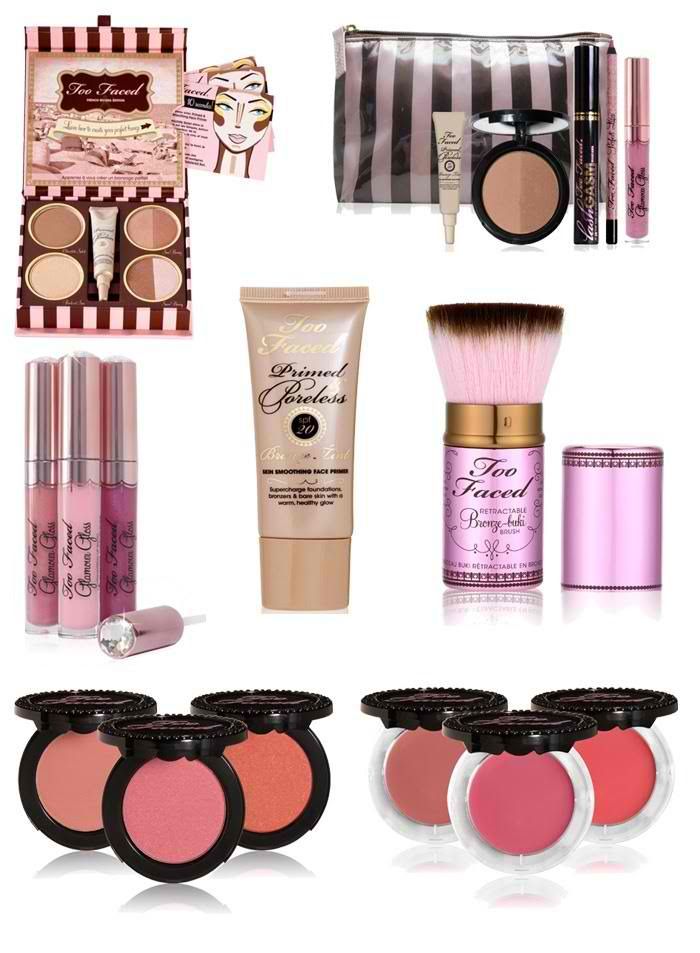 La colección consta de los siguientes productos:
The bronzed and the beautiful ($38) – Nueva entrega de esta paleta de bronceadores para conseguir un resultado perfecto. El set incluye los bronceadores best seller de la marca y un polvo dorado.Además incluye un primer Primed & Poreless en tono bronceado.
Sun Bunny (bronce clásico)
Chocolate Soleil (Bronce mate)
Powdered Sun (dorado)
Snow Bunny (mocca/rosa).
Poolside Primping Makeup Collection ($42) – La cosmetiquera perfecta para este verano.
Incluye:
Primed & Poreless en tono bronceado
Bronceador en Snow Bunny
Máscara LashGasm
Glomour gloss en el tono Peek-a-Boo
Lip liner nude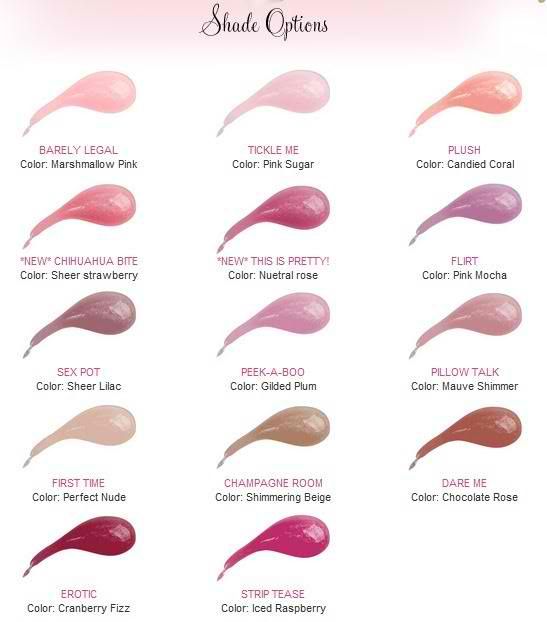 Primed and Poreless Bronzed Tint ($30) – La novedad de la temporada es esta nueva versión del famoso primer de la marca, que esta vez tiene tono dorado para aportar color y luminosidad a cualquier tono de piel.
Retractable bronze-buki brush ($34) – Kabuki retráctil pensada específicamente para aplicar polvos bronceadores.
Full Bloom Cheek and Lip Color ($21) – Producto multiuso para mejillas y labios de textura en crema, que se funde en la piel para un acabado perfecto. En los tonos:
Sweet pea: Cereza suave
Prim & Poppy: Coral
Tea Rose: Rosa apagado
Full Bloom Ultra Flush Blush ($19) – Colorete luminoso de acabado satinado. En los tonos:
Sweet Pink: Rosa
Who's your poppy: Melocotón
Cocoa Rose: Rosa amarronado suave
Glamour Gloss ($19) – Un lip gloss super brillante con una acción refrescante y una fómula que aporta volumen a tus labios. Nuevos tonos:
Chihuahua bite: Fresa suave
This is pretty!: Rosa neutro
E
spero que les guste .
No olviden pasar x mi canal en Youtube si tienen ganas.
Besossss :)
S
o
l
c
i
t
o
M
a
k
e
U
p